Surrey Hills - Wed 10th October 2012 - Victoria
We're home, safely ... it's sad that it's all over. Yesterday we did the last 230km from our lovely camp near Ararat, and arrived home by 2:30pm.
The house seems enormous after living in a caravan for five months. In the caravan everything is within arm's length ... one barely has to move ... but it's amazing how much stuff we have to unload.
It's supposed to be the middle of spring, so we're disappointed that it's so cold. We feel like heading straight back to northern Australia ... trouble is they are about to be hit by the (hot) wet season!
Watch this space for a debriefing session ... what did we learn ... how much did it cost ... and for info on crossing the Nullarbor ...
Bush Camp on Great Western/Moyston Road, 10km NW Ararat - Mon 8th October - Victoria
Last night of the trip - home tomorrow. We found lovely camp site on quiet country road (last night was noisy beside the Princes Hwy). We are not used to the cold ... a camp fire was essential!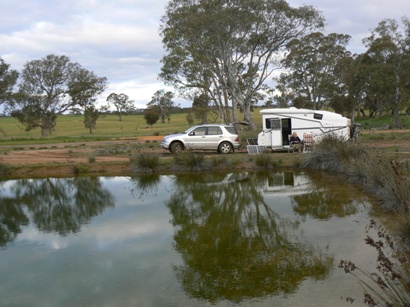 Bush Camp beside Princes Hwy, 18km W Tailem Bend - Sun 7th October - South Australia
It's nearly over!
Sorry about the lack of update in the last week - Telstra thoughtlessly failed to provide mobile phone (3G) coverage wherever we stopped for the night - and they've been some interesting places. Further details here. It's a very big place Australia ... it will have taken us well over a week to get home!
We should be home on Tuesday 9th October.
Prospector Holiday Park, Kalgoorlie - Mon 1st October - Goldfields Region
Wow, we rocketed through the Wheatbelt Region and are now in the Goldfields in preparation for tackling the Nullarbor. Just 188km to Norseman ... then 700km to the SA border, a further 500km to Ceduna and 450km to Port Augusta. Thence another 1000km home. Watch this space ... although we may not have Internet connection across the Nullarbor?
Kalgoorlie is much gentrified since the goldrush days, but I'm happy to be able to report that they still run brothel tours. We were very disappointed to find that most of the pubs were shut this evening ... Queen's Birthday holiday in Western Australia! Weird.
Last night we bush camped 20km N of Mukinbudin so that we could visit Elachbutting Rock, one of those wave rocks WA is famous for. They have some wonderful township names in the Wheatbelt ...
Our route took us across Elsewhere Road. What a wonderful name for a road, especially as it goes from nowhere to nowhere, intersecting with Rabbit Proof Fence North Road on the way. (The Rabbit Proof Fence, now called the Vermin Proof Fence, is no longer rabbit proof.)
Dalwallinu Caravan Park - Sat 29th September - Wheatbelt Region
We have officially moved from the Mid West Region to the Wheatbelt Region of WA. After two nights in the bush we are spending two nights in the excellent (and cheap) caravan park in Dalwallinu (from an Aboriginal word meaning "place to wait a while") ... I'm waiting for a horrible cold to get better ... bouts of sneezing, nose blocked, dripping like a tap despite copious quantities of "dry you up" pills and potions ... charming.
We are 250km NE of Perth ... this is as close as we get ... we are going east tomorrow.
The last few days have been cold and windy, but today, for the Grand Final has been a lovely warm sunny day with hardly any wind. (Perth is threatened with 34oC on Tue.)
We have seen heaps (carpets) of wild flowers, including the exotic Wreath Flower ...
Bush Camp 10km W of Perenjori - Thu 27th September - The Mid West Region
Time to go home ... we are making our way south east through wildflower country. This is the start of our homeward run. We think we'll be back on or soon after 10th October.
We headed east from Geraldton to Mullewa and then turned south east. Camped last night beside the iron ore railway line about 20km SE of Mullewa. Today we saw lots of wildflowers, including the exotic wreath flower, and ended up in a nature reserve just short of Perenjori.
Geraldton - Tue 25th September - The Mid West Region
Problem fixed ... we are mightily impressed by the lovely people at Country Time Caravans. They not only had a spare Truma (they call them Trauma) water boiler in stock, but they replaced the old one under warranty. Judy is very happy to be able to have a shower tomorrow morning before we set off east to see the wildflowers in the Morawa area. We are back in the Sunset Beach Caravan Park for one more night.
Today we filled in the day while we waited for the water heater to be fixed with a tour of the very impressive HMAS Sydney memorial, followed by a look at the Point Moore lighthouse and a bit of shopping.
Geraldton - Mon 24th September - The Mid West Region
Minor disaster ... we have sprung a leak. Well the hot water heater has sprung a leak, and Judy is not into cold showers. In fact, since we can't isolate the hot water heater, we have lost all ability to have running water inside the caravan. The problem was apparent on Friday morning in Kalbarri (water leaking out of the side of the caravan), but we spent some time diagnosing. It is booked into Country Time Caravans for proper diagnosis tomorrow. Worst case scenario ... isolate hot water boiler and just have cold water in van.
Nobody warned us about how windy it is here. I'm amazed that there aren't more wind turbines. They could power the whole of Australia with the wind here. Trouble is they've got too much gas, which they use to generate electricity, and a premier who's totally gung-ho on ripping resources out of the ground and selling them overseas. I am not impressed with Colin Barnett or the (Liberal) West Australian Government.
Meanwhile we bounced down 30km of dirt road to view some of the sights of Kalbarri National Park, such as Nature's Window. We also did a canoe trip on the Murchison River while collecting (photos of) some magnificent wildflowers.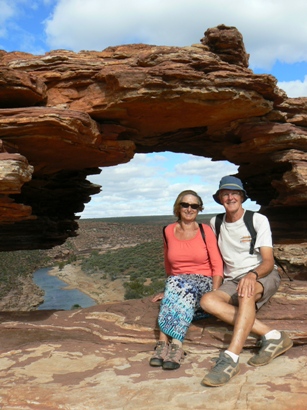 Kalbarri - Thu 20th September - The Mid West Region
We have noticed a lot of changes in the last couple of days:
no longer in the northwest ... we have crossed the 26th parallel, now in the Mid West region of WA
wind ... almost constant gales since Quobba Station (well quite a lot of wind anyway)
clouds ... after no clouds for a couple of months we've had quite a lot of cloud since Exmouth
rain ... well the odd millimetre here and there, but definitely rain
cooler temperatures ... need doona at night now
trees ... well there have always been a few scrubby trees, but now there are proper trees again
paddocks ... yesterday we saw real wheat paddocks for the first time since South Australia
undulations ... mostly the country has been billiard-table flat with occasional escarpments
wildflowers ... there has been a serious outbreak of wildflowers in the last couple of days
After leaving Denham on Tuesday we spent a night at Eagle Bluff; a large free camping area 22km S of Denham for which you have to get a permit from the Denham Visitor Centre, where only four vehicles are allowed.
After visiting Shell Beach en route we spent Wednesday night at the very popular Galena Bridge Rest Area on the Murchison River 12km N of the Kalbarri turnoff.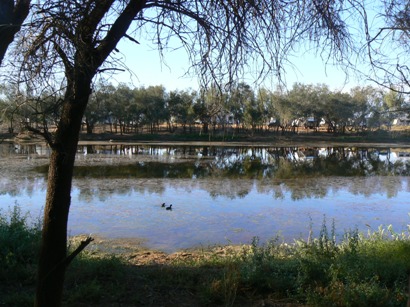 We were then ready to visit Hawks Head and Ross Graham lookouts on the way to Kalbarri on Thursday.
Shark Bay - Sat 15th Sept - The Gascoyne
Shark Bay ... how exciting! The Shark Bay World Heritage Area is, of course, a (large) area of sea. The town is called Denham. But when you ask for the Shark Bay Caravan Park, for example, you actually find it in Denham. Perhaps the most famous Shark Bay location is Monkey Mia (and its dolphins). And the Monkey Mia Dolphin Resort is the only accommodation in Monkey Mia, so the place and the resort are sort of synonymous. Monkey Mia is about 25km from Denham.
On the way here we checked out the stromatolites (think: cross between a sponge and a rock) at Hamelin Pool at the southern end of Shark Bay. The water at the southern end of the bay has about twice the salt content of "normal" sea water. We could see the cyanobacteria "fizzing" as they gave off oxygen. More power to them!
Carnarvon - Fri 14th Sept - The Gascoyne
Carnarvon is a most incongruous place. It is characterised by high winds, roadworks through the main street and in several other areas around the town, premature announcements of new facilities, a river that runs underground and some very classy new housing on "the Fascine" (a waterway open to the sea).
The wind finally calmed down this evening. However, these trees alongside the main road are testament to the prevailing wind being strong southerly.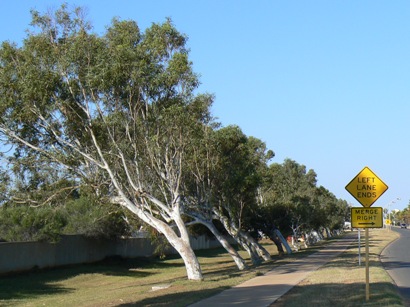 The "mile long" jetty was built in 1897 and is being preserved by local volunteers, who run a "coffee pot" train to the end of the jetty. (We had a very breezy ride.)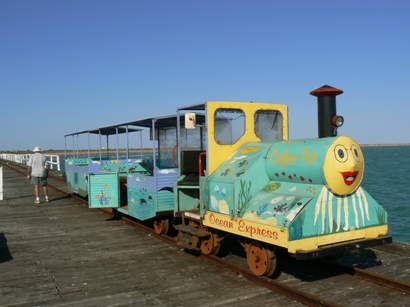 Carnarvon - Wed 12th Sept - The Gascoyne
Here we are in Carnarvon, and it's blowing a gale! Judging by the way all the trees lean towards the north strong southerlies are not uncommon here. The wind started in earnest yesterday ... when we were at Quobba Station, 85km North of here. We intended to stay two nights at Quobba, but it was just too windy.
We stopped off at the utterly amazing Blowholes at Quobba Point, just south of Quobba Station. They were especially spectacular because of the gale ...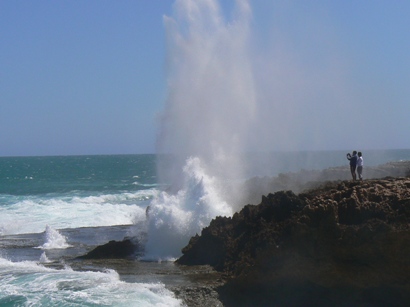 Coral Bay - Tue 11th Sept - The Gascoyne
We left the Lighthouse Caravan Park on Monday and spent the night in a bush camp beside the road, behind a pile of gravel, about 15km short of Coral Bay.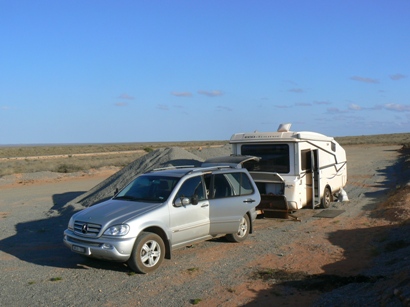 On Tuesday I donned snorkelling gear to check out the coral in Coral Bay while Judy sat on the beach.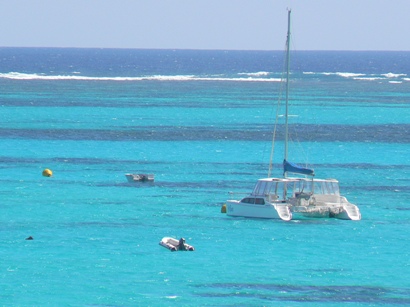 After almost exactly three months we are no longer in the tropics! Soon after leaving Coral Bay we crossed the Tropic of Capricorn (about 175km S of Exmouth).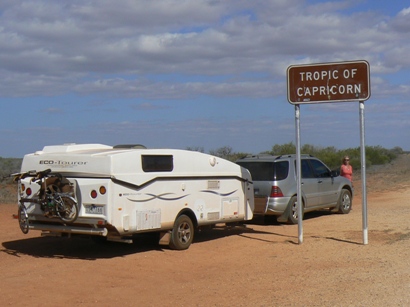 Vlamingh Head Lighthouse Caravan Park - Sun 9th Sept - The Gascoyne
In Exmouth I bought snorkelling gear, and have been snorkelling three times so far. Best was a bay called Oyster Stacks where I saw a serious multitude of very colourful fish and many types of coral. On another dive I saw a sea turtle ... but it scurried away amazingly swiftly.
We're on the move again tomorrow. We plan to check out Charles Knife Gorge on the way out of Exmouth, and will probably spend the night in a bush camp beside the road between here and Coral Bay.
Rain - Sat 8th Sept - The Gascoyne
Second cloudy day in a row ... and, yes, it rained! We needed windscreen wipers as we drove down the Ningaloo Reef peninsula towards Yardie Creek. I think we had a few spots of rain in Darwin, but this was the first rain since well before we left South Australia in May, not that it lasted very long.
Vlamingh Head Lighthouse - Fri 7th Sept - The Gascoyne
Clouds ... today was a cloudy day, the first cloudy day for at least two months. What excitement!
Exmouth is on an apparently unnamed peninsula. The northern tip of the peninsula is called North West Cape, the lighthouse is on Vlamingh Head, and Ningaloo Reef forms the west coast of the peninsula. It also contains the Cape Range NP.
We were unimpressed with the Big4 Exmouth Cape Holiday Park so we moved to the Ningaloo Lighthouse Caravan Park ... much better (and cheaper). After checking out Exmouth shopping centre and settling into the new caravan park we took a sunset whale-watching cruise on Exmouth Gulf and saw lots of humpback whales ...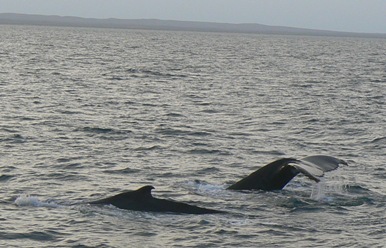 Exmouth - Thu 6th Sept - The Gascoyne
Today we broke our one day towing record by over 200km, covering 605km from Point Samson to Exmouth ... and I didn't take one single photo. We left at 8:45am stopping for brunch at the Fortescue River Roadhouse. This is clearly the way for us to cover more than 400km in a day.
We have left the red dust of the Pilbara and we are now in the Gascoyne district. Actually the caravan still contains quite a bit of fine red dust (it keeps appearing every time we move). Tonight we are parked on what seems to be very red dust ... we shall see.
Point Samson - Wed 5th Sept - The Pilbara
We drove 80km to Dampier for the 3-hour Resources Cruise with Skipper Brad (Brad Beaumont). He's a stirrer, with twinkling eyes and a cheeky grin!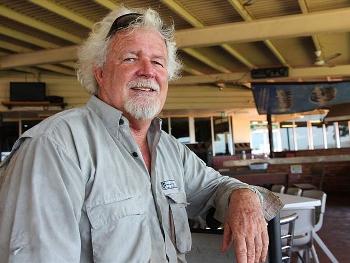 He showed us Sam's Island, the iron ore loading process and the North West Shelf Gas (LNG) plant and loading facilities. So we've now seen the whole process; iron ore mining (at Tom Price) and iron ore ship loading (at Dampier) as we literally export Australia to China. Brad was very scathing of the performance of Australian governments, particularly the West Australian Government, led by Colin Barnett, for their single-minded desire to make as much money as possible regardless of the long term effects on the country, and the laziness of the Australian people for letting them.
The idea was to zoom back here, to Point Samson, hitch up and hightail it southwestwards. In fact lunch and a spot of sightseeing intervened so that we didn't get back till after 3pm. It wasn't worth hitting the road so late, so we're here for a fourth night, with the intention of leaving early in the morning!?
Point Samson - Mon 3rd Sept - The Pilbara
We were less than impressed with the Pilbara Caravan Park in Karratha ... moved out to the wonderfully eccentric Samson Beach Caravan Park at Point Samson, about 60km east of Karratha (in other words we've gone backwards). This small park has a pub attached, and I can see the sea from the front window of the caravan.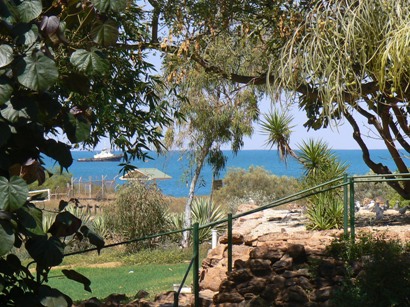 For the last couple of nights we have been watching the phenomenon called "Staircase to the Moon".
A couple of our photos: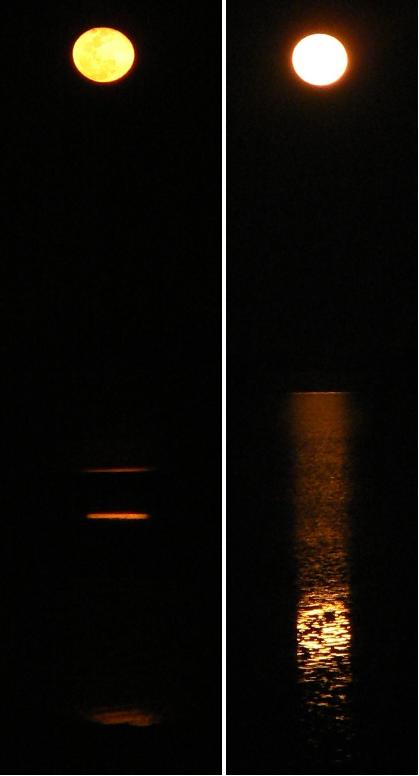 Karratha - Sat 1st Sept - The Pilbara
We've been "off the air" for a couple of days while we negotiated 212km of dirt road (plus 127km of sealed road) from Tom Price to Karratha. We wanted to see Hammersley Gorge in Karijini NP and the features of Millstream-Chichester NP, so the dirt road was shortest.
On Thursday we "did" Hammersley Gorge and 118km of quite good dirt road to Mount Florance station which was a cheap, delightful, grass-covered site where we were the only occupants. We were right about the red dust ... in everything ... so we spent much of the evening cleaning.
The main aim of Friday was to complete the dirt road section. After 50km of good dirt road, 20km of indifferent dirt road and 10km of awful dirt road, we parked the caravan while we made a dash into the Millstream part of Millstream-Chichester NP ... it was wonderful ... we swam in the Fortescue River. The last 20km of dirt road was diabolical. For much of it we were reduced to 10km/hr (even less on a couple of occasions). It was getting dark when we finally found a tiny area to pull off the road at the very start of the bitumen.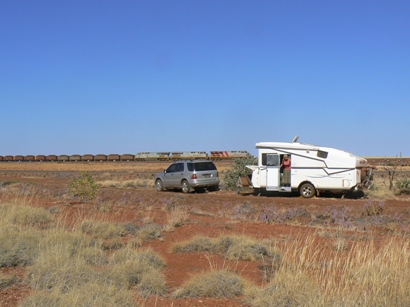 This "camp site" was only 100m from the Tom Price to Dampier iron ore railway. Trains 2.5km long went past every hour (one in each direction). However, we survived the ordeal with no apparent problems and are now in the Pilbara Caravan Park in Karratha ... but moving tomorrow ... it's just too expensive ... $52 per night ... a new record!
Tom Price - Wed 29th Aug - The Pilbara
Red dirt is an occupational hazard here. Tomorrow we are heading towards Karratha, via Millstream-Chichester NP, along a dirt road (212km of it) so we're expecting the car and caravan to change colour ... but more of that later.
At 747m above sea level, Tom Price is the highest town in WA.
You may wonder why you haven't heard of Mount Tom Price recently? Well the reason is that Mount Tom Price itself is no more (though the mine is called the Mount Tom Price Mine). Much of the mountain has been shipped off to China. Yesterday's mine tour took us to a lookout above the open cut. Our guide told us that, before mining started the lookout would have been 130m below ground level, and the open cut goes down about the same depth again.
Today I walked to the top of Mount Nameless (1128m above sea level) ... they must have sat up all night thinking up that one! Had they thought to ask the aborigines they might have named it Jarndrunmunhna (place of rock wallabies). It was a pretty steep climb. Here I met my new friends who had driven/ridden to the top. (It's the highest mountain in WA accessible by motor vehicle.)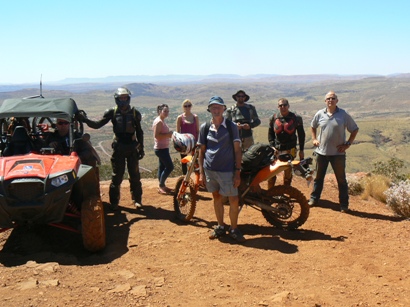 Tom Price - Mon 27th Aug - The Pilbara
Although synonymous with mining (particularly iron ore mining) areas of the Pilbara are incredibly beautiful.
We spent our last three nights at Albert Tognolini rest area. High on a ridge on the northern edge of the Hammersley Range, this rest area commands superb views. We used is as a base to explore Dales Gorge and Weano Gorge in Karijini National Park.
The rest area is so huge, well over a kilometre long, that our nearest neighbour was over 100m away. Stunning place.
Tomorrow we are going on a tour of the Rio Tinto iron ore mine here at Tom Price to see what they are doing to this beautiful country.
Port Hedland - Thu 23rd Aug
We finally left Broome at midday yesterday, after cleaning all the debris and bat droppings off the caravan (nearly sliding off the roof in the process), and queuing for almost 45 minutes to fill up with diesel and pump up the tyres. Nevertheless we towed the caravan further in one day than ever before, getting into Eighty Mile Beach about 4:30pm.
Eighty Mile Beach was lovely, but we got blown away, literally, this morning (unpleasantly strong southeasterly), so we left after just the one night.
This afternoon we "did" Port Hedland in a couple of hours. It's not exactly set up for tourists ... the port is interesting, loading much of Australia onto bulk ore carriers that are lined up offshore waiting to be loaded.
There is a severe lack of caravan parks ... the one in Port Hedland (there's only one) does not have any vacancies till Sunday, the one in South Hedland is also full, so we're staying in the red dust in the golf course car park. And we're out of here tomorrow, heading south for Karijini National Park.
Broome - Tue 21st Aug
Leaving Broome tomorrow to head for 80 Mile Beach.
Yesterday we had a seriously exciting day taking a seaplane to Talbot Bay to ride through the "Horizontal Falls".
Last Saturday, 18th Aug, we took a drive north of Broome up the Dampier Peninsula to visit Willie Creek Pearl Farm and James Price Point.
Broome - Wed 15th Aug
Here we are in the tourist Mecca of the northwest, where pearls rule and supermarket prices are higher than almost anywhere else we've been.
Broome has 7 or 8 caravan parks ... all expensive, and mostly full. As a result we spent two nights at a free bush camp (70km E of Broome). And we broke with tradition today, we packed up and left our overnight stop before 8am to be here by 9am to grab a spot at the Roebuck Bay Caravan Park.
Broome is on a peninsula. The famous Cable Beach is on the west coast of the peninsula, Roebuck Bay is on the east coast of the peninsula. The caravan park is very close to the town centre, and really is on the coast.
Windjana Gorge and Tunnel Creek - Sun 12th Aug
To save the Merc from further punishment on dirt roads we took a tour, from Derby, of Windjana Gorge and Tunnel Creek. Wading through Tunnel Creek is an amazing experience. It's where Jandamarra hid from the police in the 1890s ... see Jandamarra's War.
It turned out to be a good decision. The road was pretty rough in parts, especially the 30km between Windjana Gorge and Tunnel Creek. The Merc did well to get into the Bungle Bungles a week ago ... let's not push our luck.
Derby - Fri 10th Aug - We are in Derby
For any Pommie readers, that's Derby to rhyme with herbie ... not Derby to rhyme with barbie ... that one's in the British Midlands!
After Halls Creek we stopped at the lovely River Lodge Caravan Park, beside the mighty Fitzroy River in Fitzroy Crossing. When we arrived they'd run out of powered sites so we spent two nights using battery and solar panels during the day.
On Wednesday (8th Aug) we took a boat cruise up Geikie Gorge (or Darngku) with an aboriginal guide.
The Bungle Bungles - Sun 5th Aug
On the way to Halls Creek we stopped for a couple of nights of free camping at Spring Creek Rest Area so that we could make a dash into Purnululu National Park to check out the mighty Bungle Bungles.
Halls Creek - Mon 6th Aug - My God this Country is Big
It's overwhelming when you think of how much we've seen, and then you think of how much we haven't seen! I'm having trouble getting my head around it. The distances are vast.
We left Kununurra last Thursday (2nd Aug) to Parry Creek Farm caravan park 15km south of Wyndam. We checked out Wyndam, did a day trip down the famous Gibb River Road to El Questro. Here we hired an electric powered tinny to Chamberlain Gorge on the Chamberlain River. A good day, but we were upset that we didn't take the caravan to El Questro instead of Parry Creek. The east end of the Gibb River Road isn't nearly as "fierce" as we were led to believe.
Our next (free) campsite was at Spring Creek rest area. Brilliant! Lovely site near the creek. We drove 80km of (fairly nasty) dirt road to visit the Bungle Bungles. Well worth the pain. I don't think the Merc suffered unduly despite some slightly hairy creek crossings and a lot of vehicle and passenger rattling corrugations.
Kununurra - Wed 1st Aug - we are now in Western Australia
In fact we have been in Western Australia since Sat (28th July). We had three nights at Lake Argyle Resort so that we could do the Ord River Cruise and the Lake Argyle sunset cruise. See separate article. Decided not to buy any diamonds from the Argyle Diamond Mine.
Timber Creek - Fri 27th July - after Darwin we've been to Litchfield National Park, Douglas Hot Springs and Katherine (just for a night)
Yesterday morning we set off from the Manbulloo Caravan Park just southwest of Katherine to go on the Victoria River Cruise at 4pm. When we arrived at the Victoria River Roadhouse we discovered we had another 90km to go, to Timber Creek. We made it by 2:30pm so all was well ... just shows you shouldn't make assumptions ...
Darwin - Thu 19th July (at last we're on the move again ... even if only to the Hidden Valley Resort and Tourist Park in Berrimah ... 15km closer to Darwin)
The Merc is fixed ... alleluia. The front right wheel bearing was making the noise. Last Friday (13th July) the service station in Palmerston diagnosed the problem ($55) and told us it could take 7 to 10 days to get a replacement from Mercedes. On Monday I rang Welch Auto Parts in Collingwood ... yes, they had the part, they would dispatch it that day ($128 including freight). It arrived via TNT on Tuesday afternoon, and was installed yesterday ($240) ... no more noise from the front end, and the total cost of the exercise seemed quite reasonable to me.
We decided that we had imposed ourselves on (cousin) Ken and Pearl for quite long enough, hence the move to a caravan park. Heartfelt thanks to them for cheerfully putting up with us for so long! Some caravan improvements have been carried out (notably a computer fan in the back of the fridge to assist cooling in this hot weather), and we know the Palmerston area a whole lot better.
We intended to stay in Darwin for about a week. When we leave we will have been here for more than a fortnight. (That's the advantage of not having a set itinerary!)
We plan to leave Darwin on Sunday and head south to Litchfield National Park. Judy is suffering from arthritis in her (good) knee so she rested it today while I rode my bike to the Aviation Heritage Museum to inspect the (massive) B52 and other paltry aircraft. Tomorrow I plan to do the Darwin City Heritage Walk.
Thu 12th July
You may wonder why we appear to be stuck in Darwin. Well, it's because we are stuck.
Everyone said "Get a Toyota Landcruiser ... you're mad buying a Merc." It's a very nice car, but sadly we have a problem. There is a nasty rumbling sound coming from the right front. Is it a wheel bearing or a CV (constant velocity) joint? We are hoping to find out tomorrow, and how much it will cost to fix.
I have been able to hear the problem since before Coober Pedy. I tried to get someone to check it out in Coober Pedy, but was told not to worry.
Meanwhile we have been staying with Judy's cousin Ken and Pearl in Palmerston. We are very lucky to be here because the caravan parks in Darwin are all very busy. Also Ken noticed that one of the rear tyres was seriously worn on the inside (down to the wire) and discovered a metal component (function unknown) that had cracked. He welded it up for us (good as new), and we acquired two new tyres (ouch).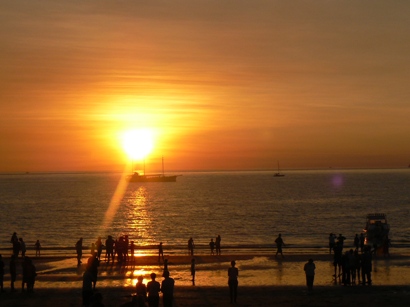 We have been to Palmerston market and the famous Mindil Beach Sunset market. We had fish and chips at the Darwin Wharf Precinct. Well many of the chips were fed to the (bat) fish, who "performed" for us. I had a go at the Darwin bus system, but managed to get on a bus to Casuarina when I was trying to get to Palmerston!
Kakadu
On Sunday 1st July we took sunset cruise on Yellow Water Wetlands (South Alligator River) ... saw salt water (estuarine) crocodiles, lots of birds and very red sunset due to smoke from controlled burns. (See also article on Green Ants under Happenings - July)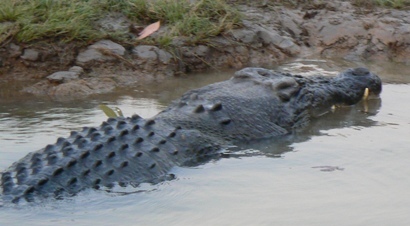 We've reached the famous Kakadu National Park. We made a sneaky entry from the south, turning off the Stuart Highway onto the Kakadu Highway at Pine Creek (after a night in the BP Service Station Caravan Park ... small but perfectly adequate and cheap ... though the pub across the road had music to midnight and the flying foxes chattered all night).
We are now in the caravan park at the seriously upmarket Gagudju Lodge, Cooinda. Tomorrow - 1st July (Northern Territory Independence Day ... celebrated with fireworks) we are going on the sunset cruise on the Yellow Water Wetlands. The penalty is having to put up with mosquitoes ... it's a tough life. Daytime temperature is now over 30oC and more humid, and nights are getting warmer (about 17oC minimum). Swimming (not with the crocodiles) is necessary to cool off! And just moving more slowly ... nothing happens fast up here.
How can we tell we're in the tropics?
it's warmer ... day time temperatures up to 30oC nights down to about 10oC
we passed the Tropic of Capricon about 30km north of Alice Springs (on our way to Gemtree) on 15th June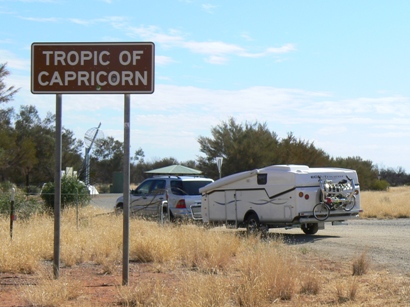 we are now over 1000km north of Alice Springs, and only about 300km from Darwin
the vegetation has changed ... there are lots of palms and pandanas and other exotic-looking plants
we can go swimming in an outdoor pool (or even the Katherine River) without freezing to death
It's lovely, although there are occasional complaints about how hot it is ... some people are never satisfied.
The last few days have been out of this world. On Tuesday (19th June) and Wednesday nights we stayed on the banks of the Longreach Waterhole (nothing to do with Longreach in Qld). What a stunning venue. I've never seen so many birds in my life.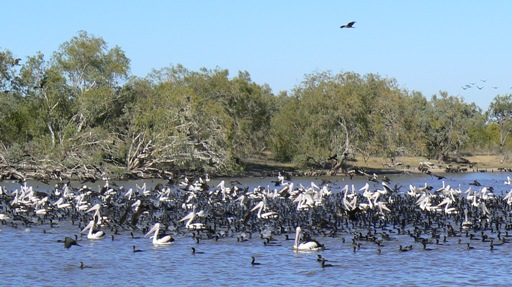 Few people know about this location. Friends said, "As you leave Elliott (between Tennant Creek and Mataranka) you will cross a cattle grid. Turn immediately left down an 11km rough sandy track." They didn't tell us about the "Private property" sign or the brahman bull. But we continued undaunted and were duly rewarded. The scenery was devine, the weather perfect (cold nights though). No flies or mosquitoes. We tested our solar showers to great effect on Wed evening.
The scenery was devine, the weather perfect (cold nights though). No flies or mosquitoes. We tested our solar showers to great effect on Wed evening.
Yesterday we moved on to the Daly Waters Outback pub ... what a contrast. For $69 we had an unpowered camp site in the overflow park (late arrival), barramundi dinner and were robustly entertained by Dave Chillcott.
The pub is famous for its barra and beef dinner, but we skipped the beef with our barra. A fabulous evening.